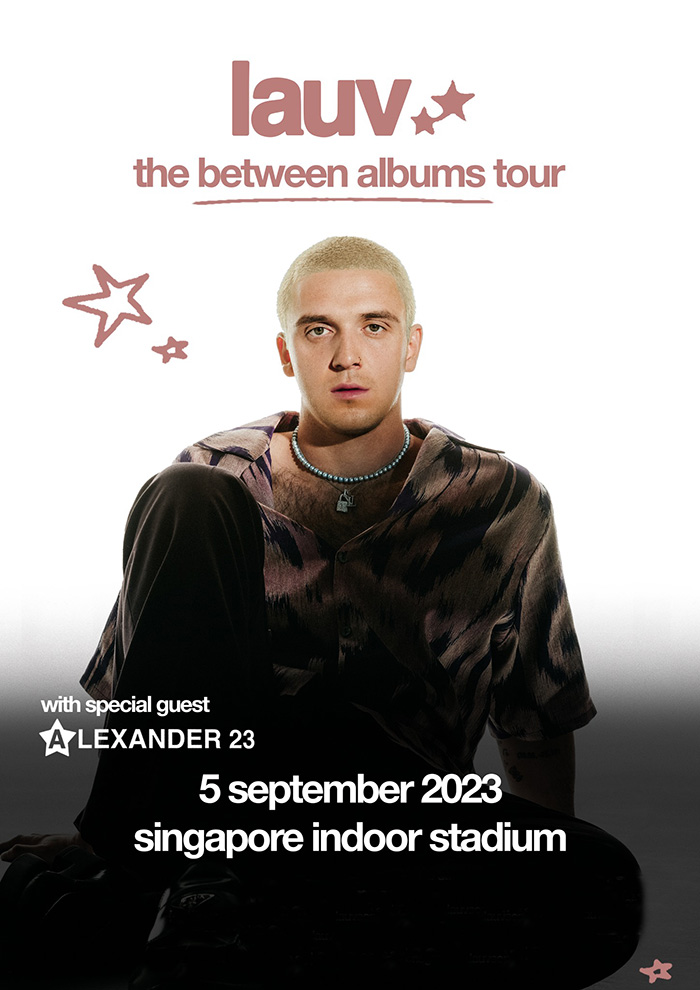 lauv: the between albums tour in Singapore 新加坡演唱会
lauv: the between albums tour in Singapore 新加坡演唱会
地点场馆
新加坡 室內体育馆 Singapore Indoor Stadium
电子门票
需提供入场者姓名(与护照一致的拼音/英文姓名)
开售日期 (当地时间)
预售 2023年5月4日 星期四 14:00
公售 2023年5月5日 星期五 14:00
温馨提示
如因不可抗力因素影响到各国地区出入境和交通管制。订票人须自行承担前往演出场馆期间及演出取消或延期导致之一切责任与风险。
节目详情
Multi-platinum certified singer, songwriter, producer, and pop visionary Lauv has announced his return to Asia, with The Between Albums Tour arriving this August and running through September. Special guest Alexander23 will support on all Lauv headline dates.

About Lauv:

On announcing the tour, Lauv said, "I'm so excited to return to Asia for tour. Every time I tour there, it's such an adventure with amazing fans so I can't wait to sing along with y'all to new and old songs".

Consistently converting the magic around him into generational anthems to the tune of 11 billion streams, the US pop sensation and storyteller extraordinaire launched onto the scene in 2015 with viral track 'The Other'. Followed by his breakout smash 'I Like Me Better', which quickly amassed over 2 billion streams globally, earning sextuple-Platinum in the US and platinum in twelve other countries.

His subsequent debut album ~how i'm feeling~ saw the world fall in love with Lauv's quick- witted quirkiness and pop gems, featuring collaborations with Troye Sivan on 'I'm So Tired…', Anne-Marie on '****, I'm Lonely' and K-pop superstars BTS on 'Who' amongst others.

Garnering tastemaker applause, NME hailed the album as "a powerful, beautiful debut," while FADER coined it "replay-able pop". In between selling out headline tours and supporting Ed Sheeran in stadiums, Lauv performed on The Tonight Show Starring Jimmy Fallon, Jimmy Kimmel LIVE!, The Late Late Show with James Corden, and more.

All 4 Nothing is the latest studio album from Lauv, and sees the artist expand his signature sound like never before.
"...one of pop's premier songwriters" – Billboard
"Leading a new wave of male musicians embracing their sensitive sides" – GQ
Lauv will land in Asia off the back of an anticipated set at The Governors Ball in New York alongside the likes of Lizzo, Kendrick Lamar, Odesza and more.

Capturing audiences with his heavy hitting pop songs coupled with stunning visuals and tender on-stage moments, Lauv's Asia tour is not to be missed this August and September!
不论年龄大小,需凭一人一票入场。
入场观众年龄要求: 以当地演出主办单位和场馆公布为准。
节目资料只供参考,主办单位有权更改节目资料及时间表。
如有任何争议,主办单位保留最终决定权。
分区座位图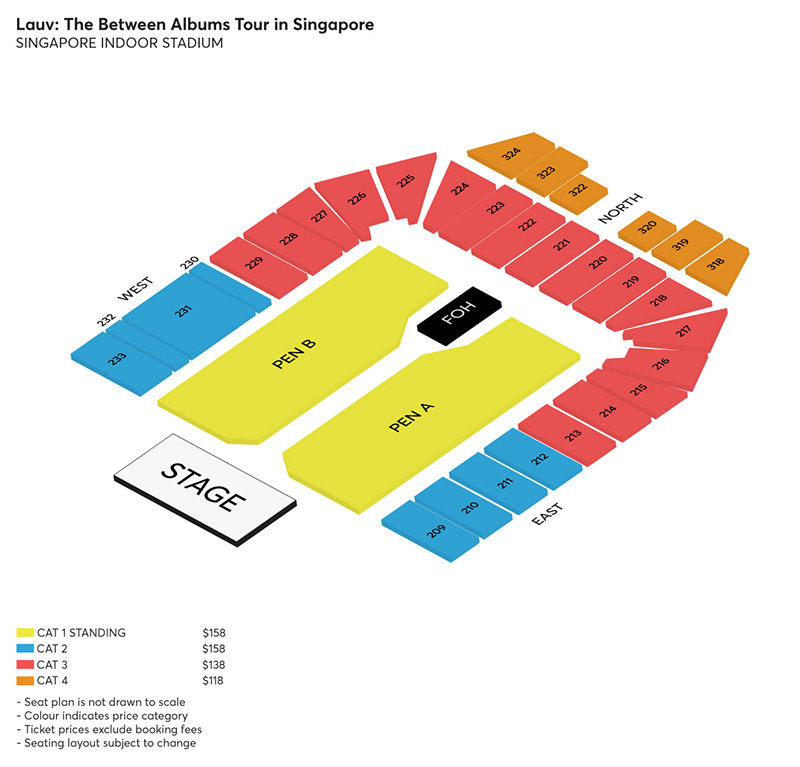 订票须知
本站不支持在线选座,会根据你所购票位为你挑选当前票务系统所剩较好位置出票。如遇票务售罄等情况,将全款原路退回,不收任何手续费。
不支持退换
演出门票为非普通商品。除节目遭取消外,无论个人原因,门票售出概不退换。任何手续费用恕不退还。如因主办方取消或改期延迟节目,按主办方公布退票流程进行。
购票保障
由主办方指定票务系统直接出票,全部票品为正品真票。从本站直接订购的门票是真确和有效的,用紫外线荧光灯照射门票背面,会有防伪水印浮现。
场馆防疫规定
为了确保各位入场观众的健康,前往观赏演出前请先了解并遵守当地场馆有关防疫规定,若有发烧症状、体温高于37.5度或未有佩戴口罩,主办方有权拒绝阁下进场,有关演唱会门票费用、购票手续费恕不退还。以演出当地场馆公布的防疫规定为准。