暂无票供应
Charlie Puth Presents The "Charlie" Live Experience 新加坡演唱会
Charlie Puth Presents The "Charlie" Live Experience 新加坡演唱会
地点场馆
新加坡 室內体育馆 Singapore Indoor Stadium
暂无票供应,请关注更新
电子门票
需提供入场者姓名(与护照一致的拼音/英文姓名)
开售日期 (当地时间)
预售 2023年6月13日 星期二 10:00
公售 2023年6月15日 星期四 10:00
温馨提示
如因不可抗力因素影响到各国地区出入境和交通管制。订票人须自行承担前往演出场馆期间及演出取消或延期导致之一切责任与风险。
节目详情
4x Grammy-nominated hitmaker Charlie Puth announced that he will be embarking on a 2023 tour. Produced by Live Nation, Charlie Puth Presents The "Charlie" Live Experience will take place at the Singapore Indoor Stadium on 10 October 2023.

*CHARLIE'S 'IN MY HEAD' EXPERIENCE - SGD 498
One VIP ticket
Access to an Intimate Pre-Show Performance
Hear Charlie Discuss the Story Behind the Song
Moderated Q&A with Charlie
One VIP-Exclusive Merch Pack
One Autographed Commemorative VIP Laminate
Early-Access Merchandise Shopping

About Charlie Puth:

Charlie Puth has proven to be one of the industry's most consistent hitmakers and sought-after collaborators. Puth has amassed eight multi-platinum singles, four GRAMMY nominations, three Billboard Music Awards, a Critic's Choice Award, and a Golden Globe nomination. His 2018 GRAMMY-nominated LP, "Voicenotes", was RIAA Certified Gold only four days after its release and has logged over 5.6 billion streams worldwide.

Recently, Puth released his highly anticipated third studio album, "CHARLIE" via Atlantic Records. Featuring hit singles "Left and Right [feat. Jung Kook of BTS], "That's Hilarious" and "Light Switch," the "expertly crafted collection" (ROLLING STONE) has surpassed 1 billion global streams and received critical praise around the world. Following the release of his "CHARLIE", Puth set out for his 'One Night Only' tour, welcoming fans around the world up close and personal as he shares his latest album and his greatest hits.

In 2020, Puth's collaboration with Gabby Barrett on their "I Hope" remix earned him his fourth top 10 track on the Billboard Hot 100, hit number one on the Billboard "Adult Pop Songs" chart, and won a 2021 Billboard Music Award for "Top Collaboration". Puth also co-wrote and produced The Kid Laroi and Justin Bieber's record-breaking single, "Stay", which quickly become one of the biggest songs of 2021 and holds the title for the longest-reigning No. 1 on the Billboard Global 200 chart and the first to lead it for double-digits - spending a total of eleven weeks at the top of the chart.
不论年龄大小,需凭一人一票入场。
入场观众年龄要求: 以当地演出主办单位和场馆公布为准。
节目资料只供参考,主办单位有权更改节目资料及时间表。
如有任何争议,主办单位保留最终决定权。
分区座位图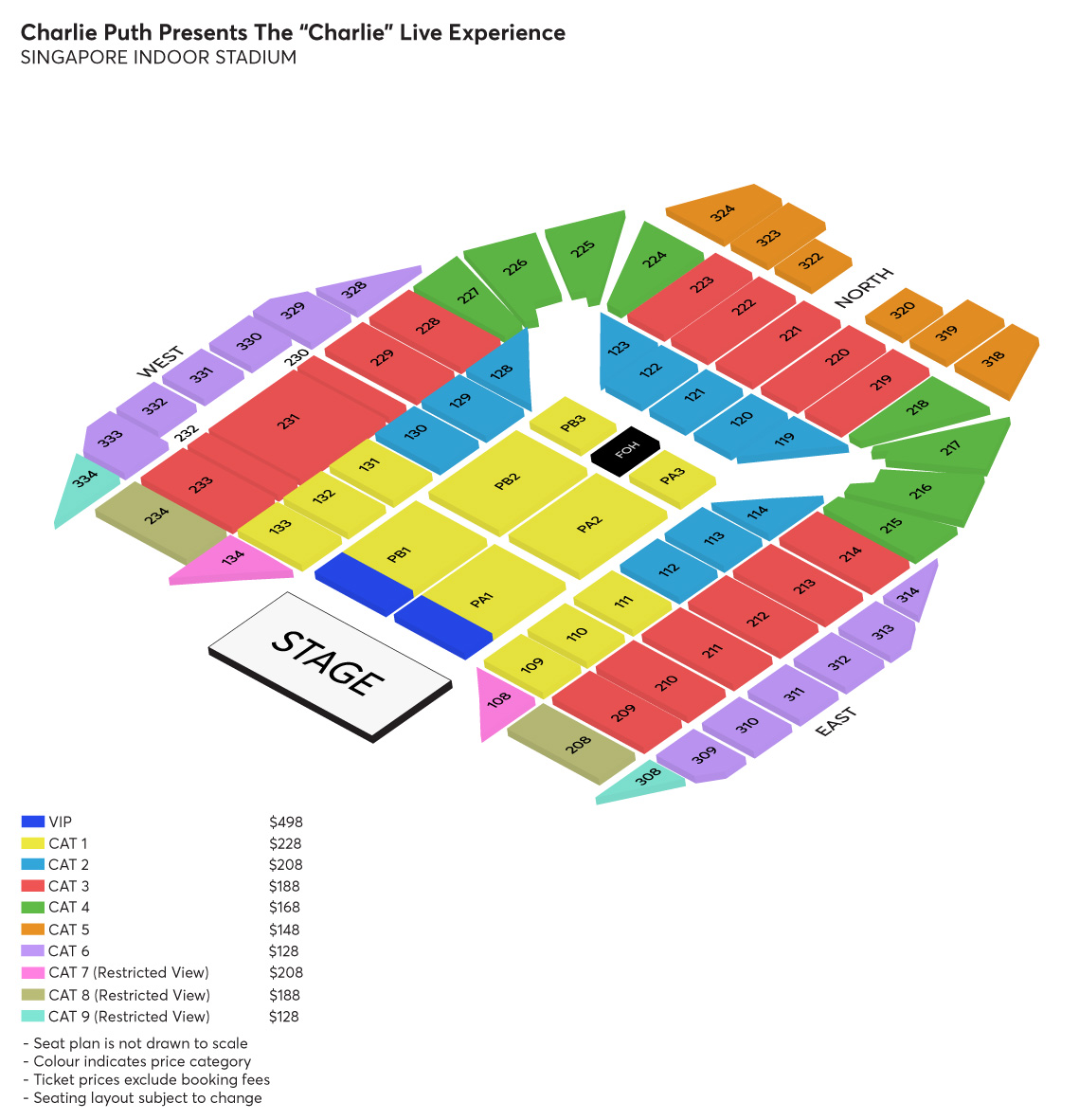 订票须知
本站不支持在线选座,会根据你所购票位为你挑选当前票务系统所剩较好位置出票。如遇票务售罄等情况,将全款原路退回,不收任何手续费。
不支持退换
演出门票为非普通商品。除节目遭取消外,无论个人原因,门票售出概不退换。任何手续费用恕不退还。如因主办方取消或改期延迟节目,按主办方公布退票流程进行。
购票保障
由主办方指定票务系统直接出票,全部票品为正品真票。从本站直接订购的门票是真确和有效的,用紫外线荧光灯照射门票背面,会有防伪水印浮现。
场馆防疫规定
为了确保各位入场观众的健康,前往观赏演出前请先了解并遵守当地场馆有关防疫规定,若有发烧症状、体温高于37.5度或未有佩戴口罩,主办方有权拒绝阁下进场,有关演唱会门票费用、购票手续费恕不退还。以演出当地场馆公布的防疫规定为准。