暂无票供应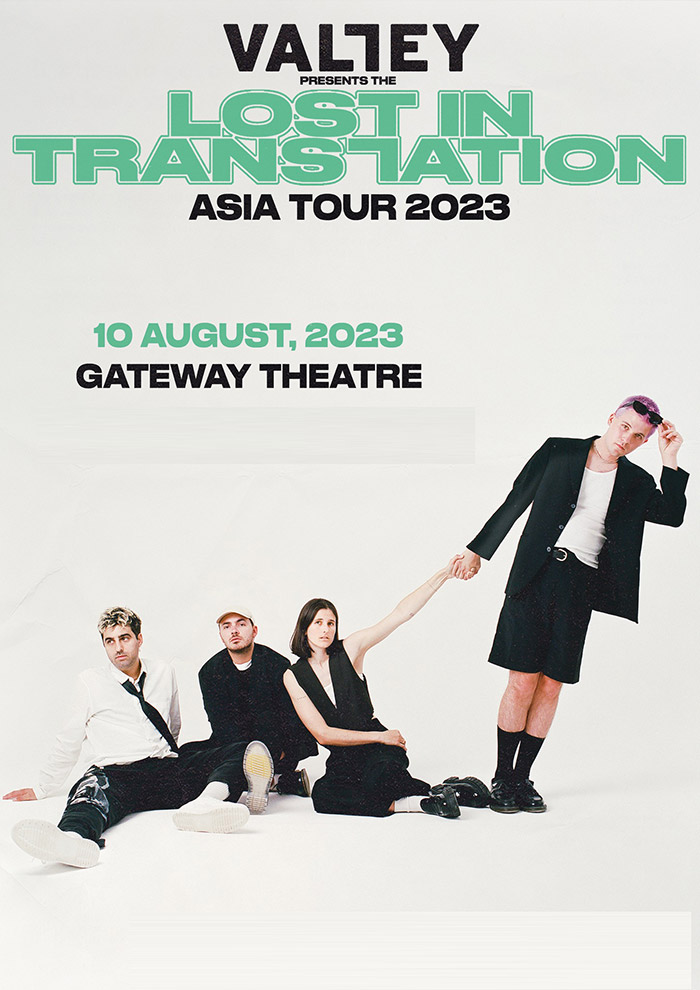 VALLEY: THE LOST IN TRANSLATION ASIA TOUR 2023 IN SINGAPORE 新加坡演唱会
VALLEY: THE LOST IN TRANSLATION ASIA TOUR 2023 IN SINGAPORE 新加坡演唱会
电子门票
需提供入场者姓名(与护照一致的拼音/英文姓名)
开售日期 (当地时间)
预售 2023年5月29日 星期一 10:00
公售 2023年5月31日 星期三 10:00
温馨提示
如因不可抗力因素影响到各国地区出入境和交通管制。订票人须自行承担前往演出场馆期间及演出取消或延期导致之一切责任与风险。
节目详情
Canada's Juno Award nominated alternative-pop band, Valley is coming to Asia, with The Lost In Translation Tour arriving this August. The band will kick off the tour in Seoul, followed by Tokyo, Manila, Hong Kong, Taipei, and Singapore!

About Valley:

Canada's Juno Award nominated alternative-pop band, Valley — Rob Laska (lead vocals), Michael "Mickey" Brandolino (guitar,synth), Alex Dimauro (bass), and Karah James (Drums, vocals) — amplify sticky hooks through eloquent songcraft that's cognizant of what came before, yet ready for the future. Over the past few years, Valley released a steady stream of singles and EPs that have resonated with an international audience, garnering over half a billion global streams with tracks often appearing on viral charts in the U.S., Philippines, Korea, Japan and more.

In 2016, Valley formed by accident when a local studio double booked them. During high school, Mickey and Karah played in one band, while Rob and Alex played in another. They introduced themselves to the world with self-written, self-produced releases, including the EP This Room Is White (2016) and full-length debut MAYBE (2019), followed by sucks to see you doing better (2020) and Last Birthday (2021). The consistent release of new music garnered the band two JUNO Award nominations and praise from the likes of EARMILK, Wonderland, American Songwriter and CBC. Their gold certified single, "Like 1999" which originates back to a TikTok post broke international borders as it appeared on global viral charts.
Valley are known for their energetic live shows, opening for the likes of Lennon Stella, The Band CAMINO and Arkells plus performing at renowned music festivals across the world including The Governors Ball, Slow Life, Slow Live Festival, Wunderstruck, Life Is Beautiful and last year the band nearly sold out their first-ever North American headlining tour.
Last year, Valley saw their hard work paying off as they were profiled as part of prestigious programs such as Apple Music's Up Next Artist alongside the release of their Apple Music Home Session plus a Spotify Singles Session. The group performed as part of Stephen Colbert's #LiveAtHome sessions for their debut US TV appearance plus they opened the biggest Canadian sporting event, playing the 2022 Grey Cup kick-off show. With their second headlining North American tour and their sophomore album Lost In Translation set to release in June, 2023 is primed to be an explosive year for Valley.
不论年龄大小,需凭一人一票入场。
入场观众年龄要求: 以当地演出主办单位和场馆公布为准。
节目资料只供参考,主办单位有权更改节目资料及时间表。
如有任何争议,主办单位保留最终决定权。
分区座位图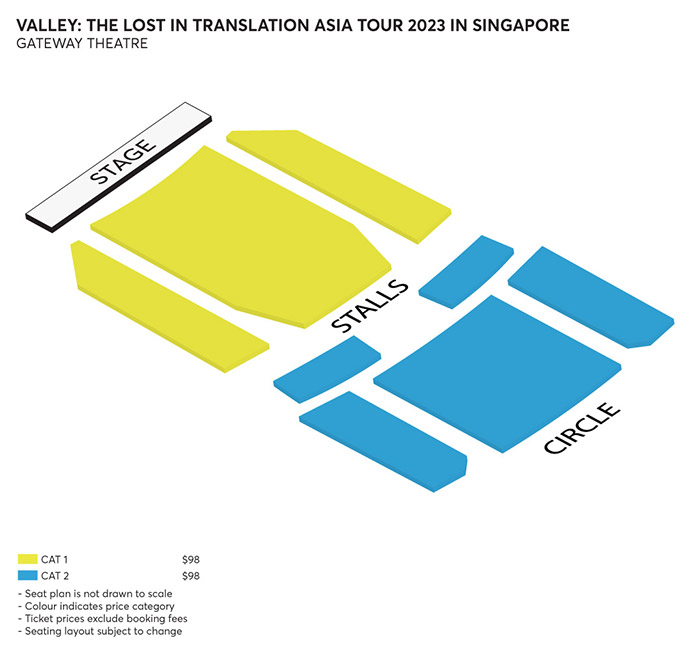 订票须知
本站不支持在线选座,会根据你所购票位为你挑选当前票务系统所剩较好位置出票。如遇票务售罄等情况,将全款原路退回,不收任何手续费。
不支持退换
演出门票为非普通商品。除节目遭取消外,无论个人原因,门票售出概不退换。任何手续费用恕不退还。如因主办方取消或改期延迟节目,按主办方公布退票流程进行。
购票保障
由主办方指定票务系统直接出票,全部票品为正品真票。从本站直接订购的门票是真确和有效的,用紫外线荧光灯照射门票背面,会有防伪水印浮现。
场馆防疫规定
为了确保各位入场观众的健康,前往观赏演出前请先了解并遵守当地场馆有关防疫规定,若有发烧症状、体温高于37.5度或未有佩戴口罩,主办方有权拒绝阁下进场,有关演唱会门票费用、购票手续费恕不退还。以演出当地场馆公布的防疫规定为准。