暂无票供应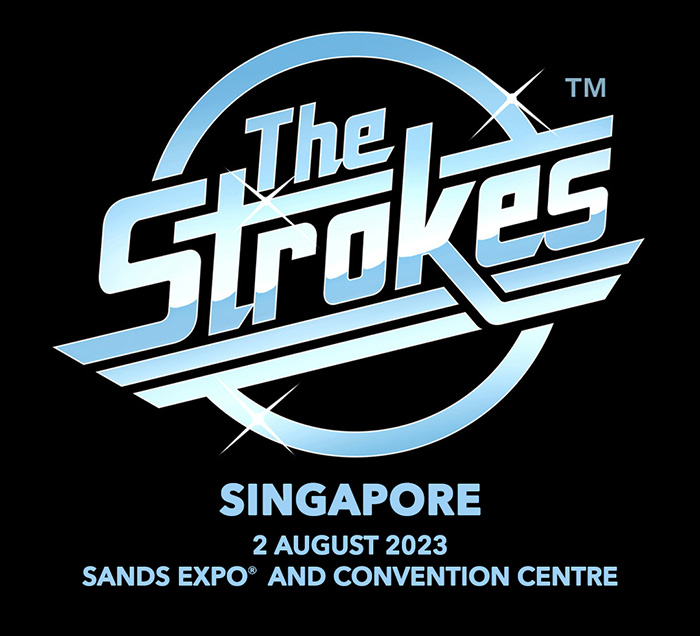 The Strokes Live in Singapore 2023 新加坡演唱会
The Strokes Live in Singapore 2023 新加坡演唱会
地点场馆
新加坡 Sands Expo and Convention Centre, Hall E & F
票价(新加坡元S$)
S$188 + VIP EXPERIENCE S$108
S$148 + VIP EXPERIENCE S$108
暂无票供应,请关注更新
电子门票
需提供入场者姓名(与护照一致的拼音/英文姓名)
开售日期 (当地时间)
公售 2023年6月7日 星期三 14:00
温馨提示
如因不可抗力因素影响到各国地区出入境和交通管制。订票人须自行承担前往演出场馆期间及演出取消或延期导致之一切责任与风险。
节目详情
Live Nation Singapore is thrilled to announce the arrival of iconic American rock band, The Strokes in Singapore! The band is set to perform on Wednesday, 2 August at Marina Bay Sands Expo and Convention Centre as part of their Asia tour this 2023.

About The Strokes:

The New Abnormal, the sixth studio album from The Strokes, is out now via Cult/RCA. In 2021, The New Abnormal won the Grammy Award for Best Rock Album at the 63rd Annual Grammy Awards.

Of the album, Associated Press raves, "a superb slice of indie rock, varied, exciting and complex, with elements of glam, straight-down-the-line rock and dreamy pop," while Under the Radar praises, "the most vital and consistent the band has sounded in over a decade."

The New Abnormal features previously shared tracks "Brooklyn Bridge To Chorus", "Bad Decisions" and "At The Door". The music video for "At The Door" premiered during the band's performance at Senator Bernie Sanders' University of New Hampshire rally. The album is The Strokes' first in seven years and was recorded at Shangri-La Studios in Malibu and produced by Rick Rubin. The album's cover artwork is a painting by Jean-Michel Basquiat, Bird on Money.

The Strokes are singer Julian Casablancas, guitarists Nick Valensi and Albert Hammond Jr, bassist Nikolai Fraiture and drummer Fabrizio Moretti.
Released February 24, 2023, The Strokes The Singles - Volume 01 is a 7" vinyl boxset comprised of the 10 original vinyl singles released from the band's first three studio albums. Utilizing the original singles artwork, the boxset will include standard black 7" vinyl of "The Modern Age", "Hard To Explain", "Last Nite" and "Someday" off of Is This It (2001), "12:51", "Reptilia" and "The End Has No End" off of Room on Fire (2003), and "Juicebox", "Heart In A Cage" and "You Only Live Once" off of First Impressions of Earth (2006) with their accompanying b-sides.
STANDARD

CAT 1 Priority Entry Standing: $188
CAT 2 General Standing: $148

VIP EXPERIENCE (SGD $108):
Exclusive VIP poster
Limited edition tour laminate with special filter experience and lanyard
Express VIP queue at the bar/concession area
Dedicated VIP merch counter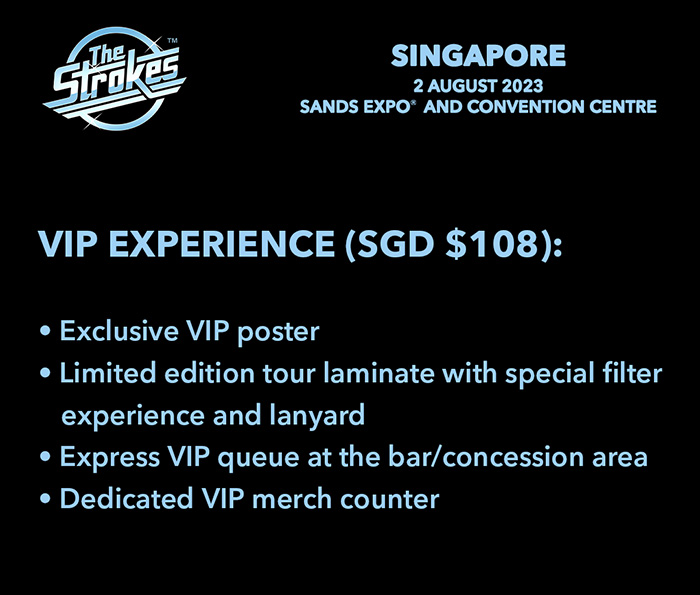 不论年龄大小,需凭一人一票入场。
入场观众年龄要求: 以当地演出主办单位和场馆公布为准。
节目资料只供参考,主办单位有权更改节目资料及时间表。
如有任何争议,主办单位保留最终决定权。
订票须知
本站不支持在线选座,会根据你所购票位为你挑选当前票务系统所剩较好位置出票。如遇票务售罄等情况,将全款原路退回,不收任何手续费。
不支持退换
演出门票为非普通商品。除节目遭取消外,无论个人原因,门票售出概不退换。任何手续费用恕不退还。如因主办方取消或改期延迟节目,按主办方公布退票流程进行。
购票保障
由主办方指定票务系统直接出票,全部票品为正品真票。从本站直接订购的门票是真确和有效的,用紫外线荧光灯照射门票背面,会有防伪水印浮现。
场馆防疫规定
为了确保各位入场观众的健康,前往观赏演出前请先了解并遵守当地场馆有关防疫规定,若有发烧症状、体温高于37.5度或未有佩戴口罩,主办方有权拒绝阁下进场,有关演唱会门票费用、购票手续费恕不退还。以演出当地场馆公布的防疫规定为准。