暂无票供应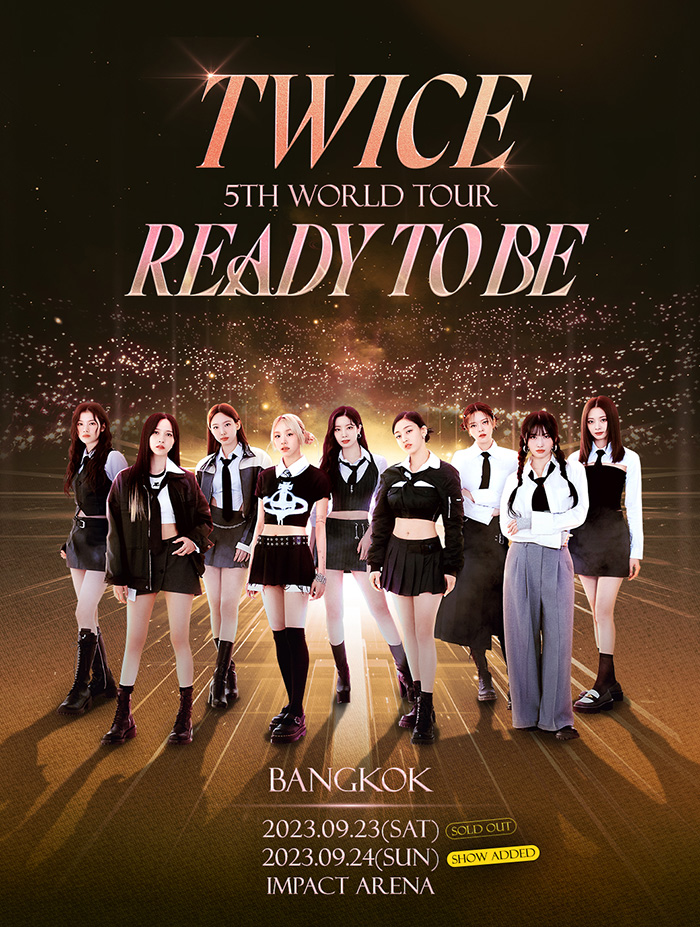 TWICE 5TH WORLD TOUR READY TO BE IN BANGKOK 泰国曼谷演唱会
TWICE 5TH WORLD TOUR READY TO BE IN BANGKOK 泰国曼谷演唱会
实体门票
需提供入场者姓名(与护照一致的拼音/英文姓名)
开售日期 (当地时间)
预售 2023年6月16日 星期五 10:00
公售 2023年6月17日 星期六 10:00
温馨提示
如因不可抗力因素影响到各国地区出入境和交通管制。订票人须自行承担前往演出场馆期间及演出取消或延期导致之一切责任与风险。
节目详情
THAI ONCE, We heard you! An extra show has been added to "TWICE 5TH WORLD TOUR 'READY TO BE' IN BANGKOK" . See you on Sunday 24 Sep at Impact Arena, Muang Thong Thani.
K-POP PHENOMS TWICE RETURN TO BANGKOK
FOR 5TH WORLD TOUR 'READY TO BE'
After holding multiple sold-out shows in the U.S., international K-Pop sensations TWICE announce their Asia Tour including Bangkok in this September as part of 5TH WORLD TOUR 'READY TO BE'.
The group previously became the first female KPOP group to ever headline in a US stadium with their two sold-out dates at BMO Stadium in Los Angeles just last year. The 5TH WORLD TOUR 'READY TO BE' promises to bring their signature high energy performance and a robust setlist of their chart-topping hits.
Formed under K-pop powerhouse JYP Entertainment in 2015, TWICE – comprised of members Nayeon, Jeongyeon, Momo, Sana, Jihyo, Mina, Dahyun, Chaeyoung, Tzuyu – is one of the best-selling K-pop girl groups of all time. Since their debut, the group has sold over 10 million albums, received nearly 6 billion streams on Spotify, performed on programs such as The Tonight Show Starring Jimmy Fallon, The Late Show with Ste-phen Colbert, and GMA3, and has been nominated for two MTV Video Music Awards. In March 2023, they were honored with the "Breakthrough Artist" award at the Billboard Women in Music Awards.
Last year, TWICE completed their sold-out 4TH WORLD TOUR Ⅲ arena tour and back-to-back, sold-out en-core performances at Los Angeles' Banc of California Stadium. These performances were a major milestone for the group, as made TWICE the first female K-Pop group to sell out two North American arena tours, as well as the first female K-Pop group to play a North American stadium. In August, they released their 11th EP, BE-TWEEN 1&2, which entered the Billboard 200 Album Chart at #3 and holds the biggest pure sales week for an album by a female K-Pop act in the US, further extending TWICE's record for the most top 10 debuts on the chart among all K-Pop female acts. BETWEEN 1&2's lead single "Talk that Talk" reached the top 20 on Bill-board's Global 200 chart, and top 10 on Billboard's Global Excl. US chart, tying with "The Feels" as their highest charting single on the latter chart. They ended the year as the most-stream female K-Pop group on Spotify.
Most recently, TWICE released their second full English-language single, "MOONLIGHT SUNRISE" off their forthcoming EP READY TO BE. The track debuted at #84 on the Billboard Hot 100 and earned TWICE career high-placements on Billboard's Digital Song Sales chart (#3) and both Spotify's US Chart (#39) and Global Chart (#60).
Notably, TWICE will be back to Bangkok after 4 years with 'READY TO BE' tour on Saturday 23th September 2023 at Impact Arena.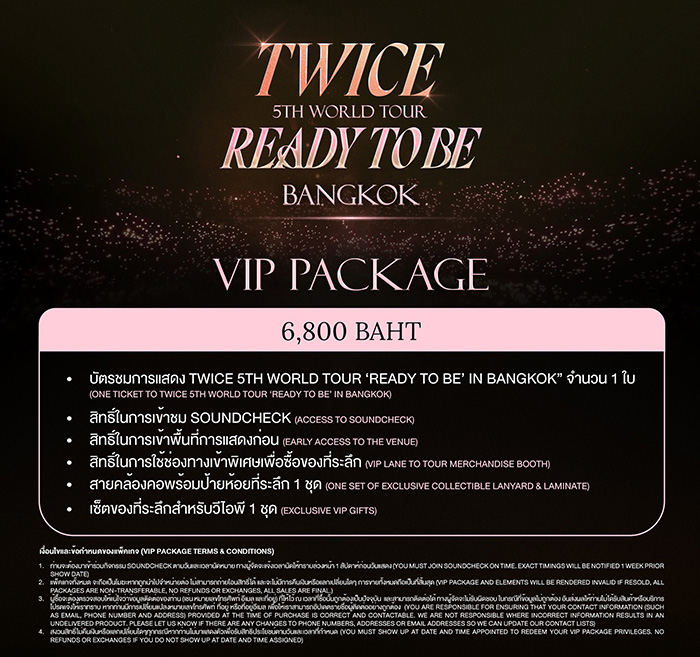 不论年龄大小,需凭一人一票入场。
入场观众年龄要求: 以当地演出主办单位和场馆公布为准。
节目资料只供参考,主办单位有权更改节目资料及时间表。
如有任何争议,主办单位保留最终决定权。
分区座位图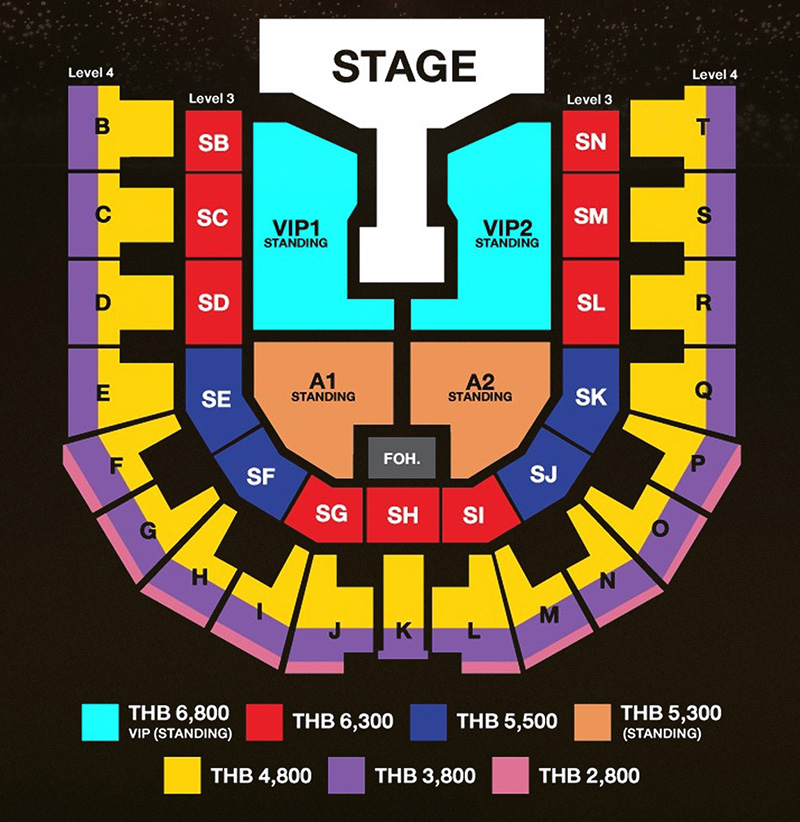 订票须知
本站不支持在线选座,会根据你所购票位为你挑选当前票务系统所剩较好位置出票。如遇票务售罄等情况,将全款原路退回,不收任何手续费。
不支持退换
演出门票为非普通商品。除节目遭取消外,无论个人原因,门票售出概不退换。任何手续费用恕不退还。如因主办方取消或改期延迟节目,按主办方公布退票流程进行。
购票保障
由主办方指定票务系统直接出票,全部票品为正品真票。从本站直接订购的门票是真确和有效的,用紫外线荧光灯照射门票背面,会有防伪水印浮现。
场馆防疫规定
为了确保各位入场观众的健康,前往观赏演出前请先了解并遵守当地场馆有关防疫规定,若有发烧症状、体温高于37.5度或未有佩戴口罩,主办方有权拒绝阁下进场,有关演唱会门票费用、购票手续费恕不退还。以演出当地场馆公布的防疫规定为准。